Leading the industry in optical component manufacturers
"We aim at making and delivering precision optical components to top optical companies." Do you need standard optics, such as optical lenses, prisms, filters, flats, mirrors, windows, and covers? Or require innovative applications? We will be your trusted partner, working with you to find the best optical solution.
If you have optical components designed or needed to design, just send us your requirements, we will produce glass optical lenses, optical prisms, optical filters, optical windows and any other optical products for you.
Molded laser lens
Aspheric lens
Spherical lens
Achromatic lens
Glass ball lens
Powell lens
Optical prism
Optical filter
Fly's eye lens
Glass rods
Cylindical lens
Fresnel lens
CHINESELENS's Services Always Go Extra Mile
No more endless wasting time on that complex work of optical components. The goal of chineselens team is to make you sit down and relax. We do all the work, including manufacturing, trade, customs and logistics. Our service team will keep you informed of the progress of our manufacturing and trade.
Elite R&D team, providing customized development service. If you have your own design drawing, just send us. And we could also deisgn for you.
If you do not need custom optical components, only standard optics, and if we have stock, then support fast delivery.
Our company has passed the ISO 9001:2015 quality management system certification and we work as 6S management.
With many years of production experience and capability of optical lens, prisms and filters etc, we have become a reliable partner for many companies of laser and quantum physics, institutes and research institutions
ISO 9001:2015
Quick response
Fast delivery
Design on demand
All good reviews
Reasonable price
Insepection 100%
Clients from 30+ countries
Long-term business
Low MOQ
Sample free on stock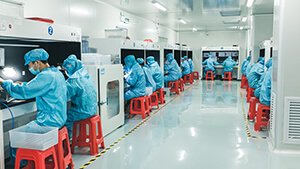 After-sale service
Our Happy Clients From 30+ Countries
"They had great communication and was fast with delivering the lenses. I love the work and will buy again in the future."
"We need custom solution for our detector with lens. They finish well. Excellent work!"
"Great job thanks, good communication and delivered on time.We must come back agian."
FAQs About Chineselens's optical components
YTD(Yancheng Tiandi International) has been in exporting optical components for 10+ years. And we have encountered all kind of problems, here are some features that customers consider before making a decision.
Are you a manufacturer or a trading company?
Our company is one leading optical components supplier, integrating product development, supplier chain integration, operation and trade.
Could you please provide free samles?
Yes. If we have the products on stock. For new customers, please jsut give us your air freight collected account. We will send you the samples asap. If you are old customers, we will send you samples free even they are customized products with low cost.
What is your progress of manufacturing optical lenses?
1. milling, 2. grinding, 3. polishing, 4. edge grinding, 5. cleaning, 6. inspecting, 7. coating, 8. gluing, 9. packaging
What industries are your optical components used in?
Military, medical, industrial, telecommunications, aerospace, laser
What kind of tools do you use for your quality inspection?
Zygo interferometer, Automatic digital focal measuring instrument, Precision goniometer, Ultra-precision spherometer, 950 spectrophotometer
What kind of optical component coatings do you have?
Anti-relective, beamsplitter cubes, beamsplitter plates, diclectric max reflectors, reflective coatings, other customized coatings.
What kind of optical capability do you have?
Rapid prototyping, advanced fabrication technology, inspection procedure, metrology, coating capability, opto-mechanical design, optical design & assembly.
Do you offer OEM &ODM optical components?
As you know, different client has different requirement for optical usage products, most of our optical components are customized according to the customer's requirement(including the material, size, focal length, accuracy etc.