Leading the industry in
optical component manufactuers-no middleman
We aim at making and delivering precision optical components to top optical companies. We will be your trusted partner, working with you to find the best optical solution.
Optical components sourcing solutions
Do you need standard optics, such as optical lenses, prisms, filters, flats, mirrors, windows, and covers? Or require custom optical components?
Whether you have a limited budget and are looking for the right optical components in stock, or you have a big budget and are customizing high-end precision optics, we will provide you with one-stop precision service.
If you have optical components designed or needed to design, just send us your requirements, we will produce glass optical lenses, optical prisms, optical filters, optical windows and any other optical products for you.
we provide customized services
No more endless wasting time on that complex work of optical components. The goal of Chineselens team is to make you sit down and relax. We do all the work, including manufacturing, trade, customs and logistics. Our service team will keep you informed of the progress of our manufacturing and trade.
Elite R&D team, providing customized development service. If you have your own design drawing, just send us. And we could also deisgn for you.
If you do not need custom optical components, only standard optics, and if we have stock, then support fast delivery.
Our company has passed the ISO 9001:2015 quality management system certification and we work as 6S management.
With many years of production experience and capability of optical lenses, prisms, filters, etc, we have become a reliable partner for many companies of laser and quantum physics, institutes, and research institutions.
1. Wide range of material processing capabilities
Optical glass from Corning, Schott, Heraeus, Ohara, Tosoh, Hoya, CDGM, and others                                       
2. Stock optical components offered
Wide range of optical lenses, prisms, filters, and other optical components
3. Extensive optics production facilities
CNC polishing, precision-molded, free form optics
4. ISO 9001 certification
We have passed ISO 9001: 2015 certification.   
5. Standard and custom coatings
0.11 Enhanced coating technology, TOF sputtering coating process, ultra-low reflection coating, BG+Suspension Coating
ISO 9001:2015
Quick response
Fast delivery
Design on demand
All good reviews
Reasonable price
Insepection 100%
Clients from 30+ countries
Long-term business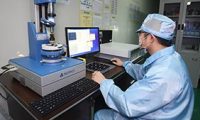 Low MOQ
Sample free on stock
After-sale service
More customers already trust us
FAQs About Chineselens's optical components
YTD(Yancheng Tiandi International) has been in exporting optical components for 10+ years. And we have encountered all kind of problems, here are some features that customers consider before making a decision.
Do you offer free samples for testing?
Yes. We can provide free samples for testing on two conditions: 1. The cost of the sample is not too high. 2. The quantity is not more than 3 pieces.
Sometimes we charge the sample fee up front, but when the customer places an order this fee is deducted. This is still equivalent to giving the customer free samples.
How do you ensure your product quality?
The optical lenses used in each project are made by a small team. Each worker is responsible for his grinding, polishing, chamfering, coating, etc. Everyone has a smooth handover and do not hand over defective products to the next process. An interferometer is placed in the workshop to quickly check the quality of the product on site.
How can you ensure your lead time ?
We plan precisely to ensure that each shipment is delivered on time. Even if we cannot deliver on time due to force majeure, we will inform our customers in advance.
How do you handle a customer complaint?
If it is our responsibility, we will cover 100% of all costs. If the customer is also responsible, we will also do our best to help come up with a solution.
If the optical lenses are damaged in delivery, how do you fix it?
First of all, the probability of such a thing happening is extremely low. If unfortunately it happens, then sorry, we will send you the brand new optical lenses free of charge.
Can you do door-to-door service?
Door-to-door service is available for all the products we make, except optical lenses. Just tell us what you need and we give you a one-stop service.