Leading the industry in
optical lens manufactuers
We mainly provide spherical lenses, collimated lenses and aspheric lenses. Help you quickly purchase the satisfactory optical lenses.
Optical lens sourcing solutions
Hi, I'm Kevin from Chineselens. Let me guide you through this ultimate solutions page.
Whether you have a limited budget and are looking for the right optical lens in stock, or you have a big budget and are customizing high-end optical components, we will provide you with one-stop precision service.
We are committed to producing high performance spherical and aspheric lenses, optical elements that are used to focus and diffuse light and provide excellent transmission characteristics.
Depending on a wide range of optical materials for specific wavelengths, we can manufacture suitable optical lenses for our customers. Below some of the optical lens material is used for manufacturing.
H-K9L
H-K50
H-BaK6
H-BaK7
H-BaK8
H-F4
H-ZK11
H-ZF1
H-LaK10
H-ZBaF16
N-BK7
N-K5
N-PK51
N-SK11
N-BAK4
N-BAK1
N-SSK8
N-PSK53A
N-F2
N-SF2
S-BSL7
S-NSL5
S-BAL41
S-BAL14
S-BAL11
S-BSM 28
S-PHM52
S-TIM 2
S-BSM18
S-TIM 22
Ultraviolet (UV) Fused Silica
Infrared (IR) Fused Silica
Optical Grade Fused Quartz
Germanium (Ge)
Silicon (S)
Zinc Selenide (ZnSe)
Zinc Sulfide (ZnS)
Optical lens manufacturing, cold processing
It is the process of machining a block or profile into a certain geometry, size, accuracy and surface roughness.
It is to reduce the depth of the concave and convex layer on the surface of the lens, so that the precision of the radius of curvature of the surface of the lens can be further improved, or flatness of the lens surface is further improved.
It is the process to remove the bumpy layer and cracked layer after fine grinding to make the lens surface transparent and smooth, and to achieve the specified surface roughness and surface quality.
Symmetrically grind the outer circle of the lens after centering , and process the chamfer, sagittal height, step, etc.
Put the finished optical lenses into the 12-slot ultrasonic cleaning machine, according to the different material to adjust the time and power, so as to clean the lens and do not harm the lens.
Percentage meter to check if the center thickness is within the tolerance. The interferometer measures whether the radius of curvature is up to standard. Observe whether the surface quality of the lens is up to standard under high magnification lamp.
The coating material is heated to form gaseous molecules or molecular clusters, which are transferred without collision to form a firmly bonded film on the surface of the lens, and the optical properties are changed due to the interference principle of light when light is incident on the film.
One lens is dotted with glue and the other lens is put on it, the eccentricity of the lens is adjusted on the center meter before the glue is cured, the eccentricity is adjusted and then the lens is initially glued together by strong exposure, and then the long time exposure by weak UV light from the oven makes the glue completely cured and the two lenses are firmly glued together.
The lens is placed on the black coating apparatus and rotated at high speed along its own axis. Using a sponge or brush dipped in ink, the ink is evenly applied to the edges, and the ink is baked at high temperature to form a uniform and firm black paint on the edges of the lens.
Estimated optical lens price
We provide a fast competitive quotation of custom aspheric and spheric lens. Great precision, increased aperture size, and improved efficiency we focus on. 
If you recently want to purchase optical lenses, you must be very concerned about the price of optical lenses in addition to the quality. In fact, the cost of optical lens contains 6 main aspects, as follows:
With many years of production experience and capability of optical lenses, prisms, filters, etc, we have become a reliable partner for many companies of laser and quantum physics, institutes, and research institutions.
1. Wide range of material processing capabilities
Optical glass from Corning, Schott, Heraeus, Ohara, Tosoh, Hoya, CDGM, and others                                       
2. Stock optical components offered
Wide range of optical lenses, prisms, filters, and other optical components
3. Extensive optics production facilities
CNC polishing, precision-molded, free form optics
4. ISO 9001 certification
We have passed ISO 9001: 2015 certification.   
5. Standard and custom coatings
0.11 Enhanced coating technology, TOF sputtering coating process, ultra-low reflection coating, BG+Suspension Coating
ISO 9001:2015
Quick response
Fast delivery
Design on demand
All good reviews
Reasonable price
Insepection 100%
Clients from 30+ countries
Long-term business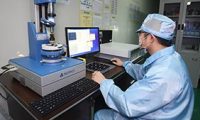 Low MOQ
Sample free on stock
After-sale service
More customers already trust us
Optical lens purchasing guides
Things you must know before you make a decision to purchase your optical lenses.
Do you offer free samples for testing?
Yes. We can provide free samples for testing on two conditions: 1. The cost of the sample is not too high. 2. The quantity is not more than 3 pieces.
Sometimes we charge the sample fee up front, but when the customer places an order this fee is deducted. This is still equivalent to giving the customer free samples.
How do you ensure your product quality?
The optical lenses used in each project are made by a small team. Each worker is responsible for his grinding, polishing, chamfering, coating, etc. Everyone has a smooth handover and do not hand over defective products to the next process. An interferometer is placed in the workshop to quickly check the quality of the product on site.
How can you ensure your lead time ?
We plan precisely to ensure that each shipment is delivered on time. Even if we cannot deliver on time due to force majeure, we will inform our customers in advance.
How do you handle a customer complaint?
If it is our responsibility, we will cover 100% of all costs. If the customer is also responsible, we will also do our best to help come up with a solution.
If the optical lenses are damaged in delivery, how do you fix it?
First of all, the probability of such a thing happening is extremely low. If unfortunately it happens, then sorry, we will send you the brand new optical lenses free of charge.
Can you do door-to-door service?
Door-to-door service is available for all the products we make, except optical lenses. Just tell us what you need and we give you a one-stop service.