Plano concave lens, UV fused silica
| | |
| --- | --- |
| Material | UV Fused Silica |
| Design wavelength | 587.6 nm |
| Diameter | 4mm-50mm or customized |
| Diameter tolerance | +0.0/-0.1mm |
| CT tolerance | ±0.2mm |
| Focal length tolerance | ±2% |
| Surface quality | 40/20 |
| Surface flatness | |
| Centration | ≤3 arcmin |
| Bevelling | 0.2mm*45º |
| Coating | Optional |
Description:
Material: UVFS
Working wavelength: 200 nm-2.1 μm
Usage: Imaging, beam expanding or beam contracting
A plane concave lens has a concave side and a plane-side with a negative focal length. Usually used to collimate a beam, increase (decrease) the focal length, or enlarge (decrease) the image. In order to get less spherical aberration, when it is a collimation beam, that should be incident on the concave side of the plane concave lens.
UV fused silica provides a maximum transmittance between 200 and 2100nm. The transmittance uniformity, the stability all surpasses the crystal quartz. It does not fluoresce and resistant to radiation. For high energy applications, the very high purity of UVFS can exclude microscopic defects that may cause laser damage.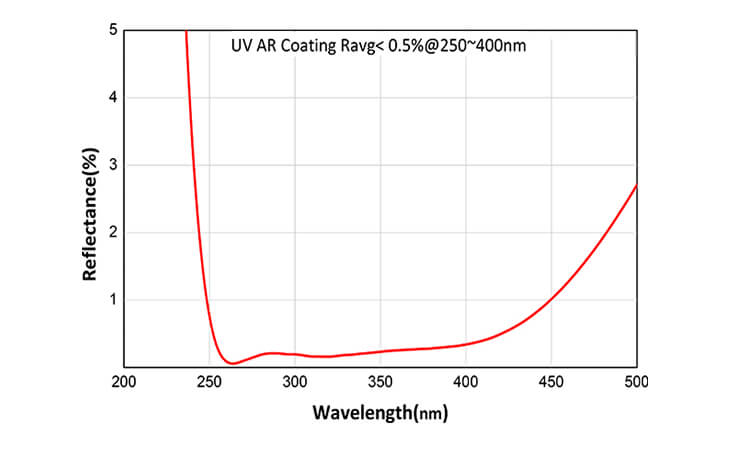 Plano concave lens, UV fused silica, size (mm)
| Item No. | Material | φ | f' | R | Tc |
| --- | --- | --- | --- | --- | --- |
| CHL004063 | UVFS | 4.0 | -6.3 | -2.89 | 2.30 |
| CHL004010 | UVFS | 4.0 | -10.0 | -4.58 | 2.00 |
| CHL040015 | UVFS | 4.0 | -15.0 | -6.88 | 2.00 |
| CHL040020 | UVFS | 4.0 | -20.0 | -9.17 | 2.00 |
| CHL063010 | UVFS | 6.3 | -10.0 | -4.58 | 2.25 |
| CHL063125 | UVFS | 6.3 | -12.5 | -5.73 | 2.44 |
| CHL063150 | UVFS | 6.3 | -15.0 | -6.88 | 2.26 |
| CHL063020 | UVFS | 6.3 | -20.0 | -9.17 | 2.06 |
| CHL063025 | UVFS | 6.3 | -25.0 | -11.46 | 1.94 |
| CHL063040 | UVFS | 6.3 | -40.0 | -18.34 | 2.27 |
| CHL063050 | UVFS | 6.3 | -50.0 | -22.92 | 2.22 |
| CHL010125 | UVFS | 10.0 | -12.5 | -5.73 | 4.43 |
| CHL010150 | UVFS | 10.0 | -15.0 | -6.88 | 3.65 |
| CHL010020 | UVFS | 10.0 | -20.0 | -9.17 | 2.98 |
| CHL010025 | UVFS | 10.0 | -25.0 | -11.46 | 2.64 |
| CHL010040 | UVFS | 10.0 | -40.0 | -18.34 | 2.19 |
| CHL010050 | UVFS | 10.0 | -50.0 | -22.92 | 2.05 |
| CHL127020 | UVFS | 12.7 | -20.0 | -9.17 | 4.05 |
| CHL127025 | UVFS | 12.7 | -25.0 | -11.46 | 3.42 |
| CHL127030 | UVFS | 12.7 | -30.0 | -13.75 | 3.05 |
| CHL127040 | UVFS | 12.7 | -40.0 | -18.34 | 2.63 |
| CHL127050 | UVFS | 12.7 | -50.0 | -22.92 | 2.40 |
| CHL127100 | UVFS | 12.7 | -100.0 | -45.58 | 2.14 |
| CHL254035 | UVFS | 25.4 | -35.0 | -16.05 | 8.24 |
| CHL254040 | UVFS | 25.4 | -40.0 | -18.34 | 6.61 |
| CHL254050 | UVFS | 25.4 | -50.0 | -22.92 | 5.84 |
| CHL254075 | UVFS | 25.4 | -75.0 | -34.39 | 4.43 |
| CHL254100 | UVFS | 25.4 | -100.0 | -45.58 | 3.79 |
| CHL254150 | UVFS | 25.4 | -150.0 | -68.77 | 3.18 |
| CHL254175 | UVFS | 25.4 | -175.0 | -80.23 | 3.01 |
| CHL254200 | UVFS | 25.4 | -200.0 | -91.70 | 2.88 |